Dr Kate Shipman, Trainee in Chemical Pathology (Metabolic Medicine)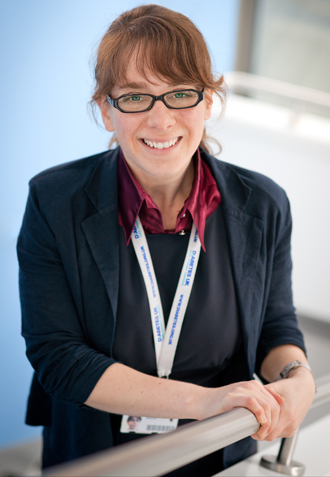 My day begins at...
9am, however I am usually at work a bit earlier to check emails/diary and catch up with colleagues. As a trainee I have no out of hours responsibility but when you become a consultant you will be on an on call rota, covering the laboratory 24 hours a day. This tends not to be an onerous task with relatively few calls after hours.
Throughout the day...
I perform a range of duties including clinic work, duty biochemist, teaching, attending meetings and laboratory work. The main areas of medicine covered by chemical pathologists in clinic are lipidology, diabetes, metabolic bone disease and inborn errors of metabolism, but can include areas such as obesity, nutrition, endocrinology, renal and cardiovascular risk. As the duty biochemist your role is to support laboratory staff with queries and concerns, answer telephone calls and clinical validation of results. To validate results you look at trends and clinical details and attempt to interpret results, and either comment or call the doctor if necessary. You are also the last quality check before results are issued. There is a lot of contact with other clinicians to both develop services and provide expert opinion. Some pathologists will also review in-patients such as cases of severe hyponatraemia for example.
Why did you choose this specialty?
I always enjoyed understanding how things worked, particularly undergraduate physiology and biochemistry with both being fundamental for good patient care. It was this academic aspect that I missed during clinical practice yet this specialty allows you to analyse data and analytical methodology to the highest standard whilst still providing the opportunity for patient contact. Also as a member of a multidisciplinary team consisting of a diverse group of experts it is both rewarding and interesting working towards a common goal.
What do you enjoy most about your job and your chosen specialty?
The entire subject is fascinating and the role allows you to utilise your extensive scientific and clinical training to improve patient care. From laboratory work and audit through to new test introduction and clinician advice, all your work is dedicated towards high quality information and results and this practice is immensely satisfying. Personally I found emergency care at the patient bedside slightly stressful and I prefer this quieter specialty. It would be a mistake to think that there is less work to do however, it is just in a different format.
What advice would you give to students looking to enter your field?
There is a considerable amount of biochemistry, mathematics, physiology and to some extent physics involved in the job. Although you can choose to do less of the maths eventually, as a consultant, a certain standard is required to get through the exams. I have enjoyed relearning how to use the calculator I haven't touched since A-Levels but if this doesn't appeal you should consider whether the exams will be feasible for you.
Although I am still studying for exams...
Hobbies are easy to fit in as I am very rarely ever required to stay late at the laboratory. Baking is a particular passion and I like to think it is a useful hobby allowing me to develop my practical chemistry skills especially when trying tricky recipes such as confectionary and patisserie! I also attend evening classes, the most recent ones being Lindy Hop and Argentine Tango.
Metabolic medicine is a relatively small specialty...
With only 60 trainees in the UK meaning you have to be proactive to meet other trainees. However, by joining committees I have been able to meet people as well as learn a great deal about the behind the scenes work that goes into our training and feel like I can influence its course. I am also organising a national training meeting. My job does not suffer from this as the team support both scientific and medical trainees to take on extra roles so getting time off to attend meetings is easy, in fact, taking on a wide range of responsibilities is encouraged. Amongst my colleagues training in other specialties I have the most flexibility in how I spend my time.