What can we learn from past pandemics? Find out from Mark Honigsbaum, author of 'The Pandemic Century: A History of Global Contagion from the Spanish Flu to Covid-19', at our book club event on 3 November.
About this Event
Following a reading from The Pandemic Century by author Mark Honigsbaum, we'll find out what our expert panel and audience think of the book and also chat about some of the key themes and ideas. This event will take place via Zoom webinar and will be recorded. A video will be available on our YouTube channel after the event.
How to get involved
You don't need to have read the book to join in with this event. However, if you'd like to read The Pandemic Century, please do purchase a copy from a book retailer of your choice - e.g. Amazon, Waterstones, Foyles, WHSmith.
Jot down any comments or questions you have for the author or our panel.
Join the Zoom webinar on Tuesday 3 November from 5.50pm for a 6pm GMT start.
Please contact [email protected] if you have any queries.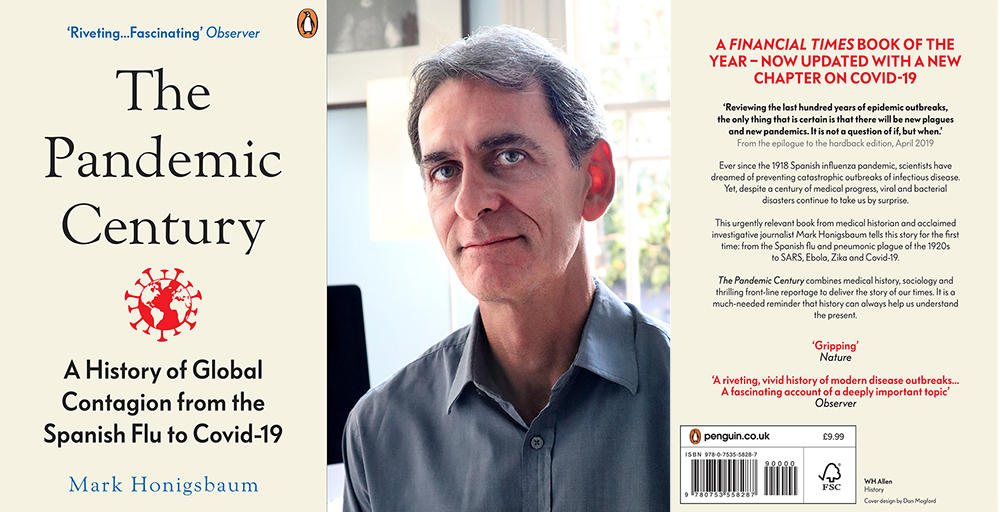 About the author
Mark is a medical historian, Senior Lecturer in Journalism at City University and a regular contributor to The Observer and The Lancet. He is the author of five books including Living With Enza: The Forgotten Story of Britain and the Great Flu Pandemic of 1918, which was longlisted for the Royal Society Science Book of the Year in 2009.
His most recent book, The Pandemic Century: One Hundred Years of Panic, Hysteria and Hubris was named a 'heath book of the year' by the Financial Times and an 'editor's pick' by the New York Times.
In June 2020 a revised paperback edition was published under the new title, The Pandemic Century: A Global History of Contagion from Spanish Flu to Covid-19.
'Mark Honigsbaum does a superb job covering a century's worth of pandemics and the fears they invariably unleash. The moral of his cogent tale is that the next deadly pandemic is not a matter of if but of when, and preparing for that fact is a far better prescription than reacting with panic, fear, or indifference.' - Howard Markel, MD, PhD, George E. Wantz Distinguished Professor of the History of Medicine and director of the Center for the History of Medicine, University of Michigan
About the chairperson and panellists

From left to right: Kip Heath (photo credit: Steve Cross), Prof. Will Irving, Anjana Ahuja and Shuayb Elkhalifa
Kip Heath has been working as a healthcare scientist ever since she left school, and can't imagine doing anything else! She specialised in both virology and immunology, finding it fascinating how much damage a string of genetic code in a protein coat can do to a human without even being alive.

These days Kip is deputy lead healthcare scientist for a hospital in London, as well lead assessor for healthcare science apprenticeships nationally. As if this wasn't enough to keep her busy, she is passionate about raising the profile of healthcare scientists as a STEM ambassador and stand up comic.
Professor Will Irving has been Professor and Honorary Consultant in Virology at the University of Nottingham and Nottingham University Hospitals NHS Trust since 2002. He currently chairs the National Strategy Group for Viral Hepatitis, having previously chaired the Department of Health Advisory Group on Hepatitis (AGH). He is a member of the Advisory Committee Safety of Blood, Tissues and Organs (SaBTO) which advises UK ministers and health departments on the most appropriate ways to ensure the safety of blood, cells, tissues and organs for transfusion/transplantation, and is currently chairing a SaBTO working group on transmission of hepatitis B virus from donors with occult infection.
His research interest is in the natural history of hepatitis C virus infection. He is a keen bridge player, and has a ridiculous passion for the fortunes of Leeds United.
Anjana Ahuja is a Contributing Writer on science for the Financial Times and writes a regular opinion column for the paper (first writing on 8 January 2020 about a mystery pneumonia in Wuhan). The Pandemic Century was featured as one of her 2019 Financial Times Health Books of the Year.
She also contributes to other media outlets, including the New Statesman, Prospect and BBC Radio 4. She was educated at a comprehensive school in Essex and has a PhD in space physics from Imperial College London. She is a trustee of Sense About Science and is on the books for Speakers For Schools, which gives state school students access to motivational speakers and work experience opportunities for free.
Dr Shuayb Elkhalifa is a clinical Immunology consultant, currently working at Salford Royal NHS Foundation Trust. He is trained at the Health Education England North West. During his training he served as a trainee representative to Regional, National, European and International immunology and allergy associations and societies including ESID, BSACI & UKPIN. Shuayb is currently a trustee member at UKPIN, active member of the National Education Strategy Group for Allergy, Editor at the Rheumatology Journal, in addition to few leadership and managerial positions at various NGOs.
He has published in the field of Immunodeficiency, autoimmunity, drug allergy and anaphylaxis, and co-authored The British Society for Rheumatology's Choosing Wisely UK 2018 recommendation. Shuayb has been honoured with multiple awards including the Excellence Report Award (Ref No. 1125633) from Central Manchester University Hospitals and the Dragon Den award from Health Education England (HEE) across the North West Annual Leadership, Innovation, and Quality Improvement event with Dr Calisti for their work on the Drug Allergy App project.
18:00 - 03/11/2020 to 19:30 - 03/11/2020