The RCPath Book Club was launched in November 2020 during National Pathology Week. During each event we dive into a pathology/medicine related book with the help of a panel of experts. We've been honoured to have been able to collaborate with some fantastic authors and special guests already, and look forward to continuing to feature many more thought-provoking books. Read on to find out about our upcoming events and to watch the recordings of previous RCPath Book Clubs.
Upcoming Events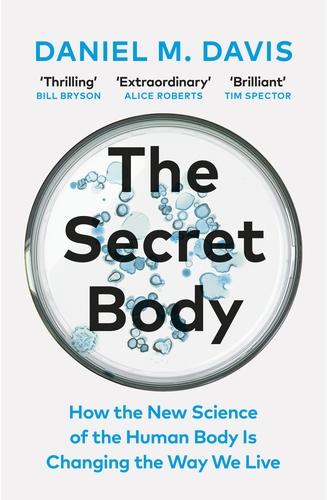 Join author Professor Daniel M. Davis and an expert panel to discuss the key themes and ideas explored in Daniel's book, The Secret Body: How the New Science of the Human Body Is Changing the Way We Live. Sign up for free here.
Synopsis: Welcome to a revolution in the science of you! This landmark new book from award-winning scientist Daniel M. Davis explores the future of the human body. Imagine taking drugs to help you acquire new skills, or knowing years in advance the precise likelihood of developing specific cancers, or following a diet and health regime tailored to your microbiome, or even having continuous monitoring of your body's workings and well-being. Written by an award-winning scientist, this landmark book shows how these radical and disconcerting possibilities have been made real. It is at once a gripping drama of scientific ingenuity, discovery and collaboration, and a vision of the human body of dizzying complexity and wonder.
'A big-picture forecast of how medicine stands on the threshold of a revolution that will radically change all of our lives' – The Times
'The startling new discoveries...are radically altering our understanding of how we function and what our future holds' – Brian Cox
Previous Book Clubs
What can we learn from past pandemics? Find out from Mark Honigsbaum, author of The Pandemic Century: A History of Global Contagion from the Spanish Flu to Covid-19. Visit the event webpage for more information about the book, author, host and panellists.
Most humans contain between nine and twelve pints of blood. Here, award-winning investigative journalist Rose George (who probably contains nine pints), tells nine different stories that reveal the richness and wonder of the potent red fluid that courses around our bodies, and considers the taboos, perceptions and pioneering science that have evolved around it. Find out more on the Nine Pints event page.
In Gulp we meet the scientists who tackle the questions no one else thinks — or has the courage — to ask. How much can you eat before your stomach bursts? Why doesn't the stomach digest itself? Can wine tasters really tell a $10 bottle from a $100 bottle? Why is crunchy food so appealing? Can constipation kill you? Did it kill Elvis? We go on location to a pet food taste-test lab, a faecal transplant, and into a live stomach to observe the fate of a meal. Like all of Mary Roach's books, Gulp is as much about human beings as it is about human bodies. Find out more about the event, author and panellists here.
We were honoured that Henrietta's grandchildren, Jeri and David Lacks, were able to join host Professor Sarah Coupland and an expert panel in our fourth RCPath Book Club, in support of Cervical Screening Awareness Week. We discussed the life and contributions of Henrietta Lacks and the HeLa cells that have led to so many scientific advancements, as well the issues surrounding ethics, informed consent, scientific racism and inequalities. Find out more about the event and panellists here.
We kicked off National Pathology Week 2021 by delving into Ten Drugs: How Plants, Powders, and Pills Have Shaped the History of Medicine with host Nigel Brown (a Consultant Clinical Scientist in Toxicology) and a panel of experts. Find out more about the event and panellists here.
Synopsis: Beginning with opium, the 'joy plant', which has been used for 10,000 years, Thomas Hager tells a captivating story of medicine. His subjects include the largely forgotten female pioneer who introduced smallpox inoculation to Britain, the infamous knockout drops, the first antibiotic, which saved countless lives, the first antipsychotic, which helped empty public mental hospitals, Viagra, statins, and the new frontier of monoclonal antibodies. This is a deep, wide-ranging, and wildly entertaining book.
As part of National Pathology Week 2022 (20-26 June) and the College's 60th anniversary year, we explored Prof. Heidi J. Larson's book Stuck.
Synopsis: Stuck examines how the issues surrounding vaccine hesitancy are, more than anything, about people feeling left out of the conversation. A new dialogue is long overdue, one that addresses the many types of vaccine hesitancy and the social factors that perpetuate them. To do this, Stuck provides a clear-eyed examination of the social vectors that transmit vaccine rumours, their manifestations around the globe, and how these individual threads are all connected.