In July 2020, the College's second Foundation taster event, 'Pathology through a COVID lens', was held online. Since the usual residential undergraduate summer school could not be held because of the pandemic, the 2020 taster event was also opened up to medical students.
There was a lot of interest, with more than 200 attendees. Upon registering for the event, participants were asked to enter three words describing their perception of pathology – these are represented in the wordcloud below.
For the new online format, consultants and trainees in each major specialty prerecorded videos showcasing their specialty, describing the specialty training pathology and giving examples of its role in tackling COVID-19. In advance of the meeting, these were made available to participants on YouTube so they could select and watch those relevant to their specialties of interest.
During the live part of the event, I gave an introduction as the College Foundation Lead. The then College President, Professor Jo Martin, followed up with a talk asking the question: 'Why is pathology important?' An interactive Q&A session with the panel of consultants and trainees followed, which was led by Dr Matthew Clarke, Chair of the Trainees' Advisory Committee.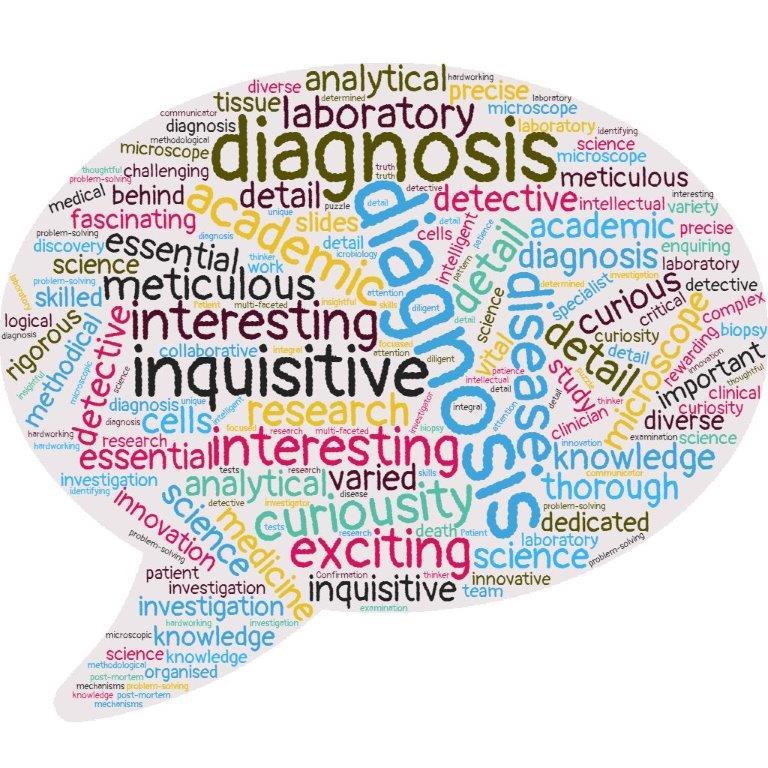 We thank you
A huge 'thank you' is due to the following panellists for representing their specialties in the videos and on the Q&A panel:
Ruth Ayling and Atul Goyale (chemical pathology)
Cath Booth and Thomas Erblich (haematology)
Ali Robb and Ian Blythe (medical microbiology/infectious disease)
Mike Osborn and Katie Allen (histopathology)
Shuayb Elkhalifa (immunology).
For joining the expert Q&A panel, thanks must also go to:
David Roberts (research in pathology)
Jo Brinklow (RCPath Director of Learning).
Finally, thanks are due to Kristen Pontello and the College Events team for their flawless organisation, and to the British Division of the International Academy of Pathology (BDIAP) for sponsoring the event.
Positive feedback
The feedback was very positive. Before the event started, 36% of those who had signed up were fairly sure they wanted a career in pathology. Afterwards, 59% said they were either likely or very likely to pursue a career in pathology, with another 38% considering it as a possible option. Most encouragingly, 95% said they would recommend the event to others.
Feedback comments from participants
'Completely changed my view of pathology. Such an insight.'
'I felt inspired and was particularly impressed that very senior doctors would take the opportunity to talk to us about pathology training.'
'It was clear that everyone participating in the event is passionate about pathology, and that made me feel very excited. Not only was I able to learn more about pathology as a career, I was also able to learn about some of the research being conducted now, which was very exciting and interesting to hear. Thank you very much for a great event.'
Foundation Fellowship Scheme
In 2020, the College launched its new Foundation Fellowship scheme. The scheme aims to support high-calibre Foundation doctors with an interest in pathology and to engage them with the work of the College.
All Foundation doctors whose rotations include a post in any pathology discipline are eligible to apply for an RCPath Foundation Fellowship through a competitive selection process.
I am grateful to Dr Mike Masding, Co-Chair of the UK Foundation Programme Office and Lead Foundation School Director, Health Education England (HEE), for supporting and promoting these Fellowships through the Foundation Schools Directors Committee.
The appointed Fellows enjoy a number of benefits, including College membership, the opportunity to attend various College events and educational meetings, and opportunities to present at events such as the Foundation taster event and undergraduate summer school.
The scheme was oversubscribed and many excellent applications were received. I am delighted to report that 24 Foundation Fellows were selected. Congratulations to them all. We extend a warm welcome and hope that they enjoy and benefit from this new scheme.
If your department hosts Foundation doctor posts, please do encourage those rotating through next year to apply for a Fellowship. Applications for next year will open in summer 2021.