The late Queen visited the College three times during her reign, each time in her role as our patron, and each time at our previous building in Carlton House Terrace. The first of these visits was on 10 December 1970 when The late Queen came to formally open the building.
The late Queen, together with His Royal Highness Prince Philip, Duke of Edinburgh, visited the College for a second time on 19 February 1987 as part of the College's Silver Jubilee celebrations. The late Queen and His Royal Highness again visited on 16 February 1994 to mark the re-opening of the College's premises at 2 Carlton House Terrace following major renovation. On their second and third visits, The Queen and Prince Phillip signed our visitor's book.
Having sadly lost The late Queen as our patron, we will in time be granted a new royal patron. The exact process by which this will happen is as yet unclear at this early stage and it seems likely all The late Queen's 600 or so patronages will pass to King Charles III who will then likely distribute them among other members of the Royal Family. We shall wait and see who will be our new patron. But, whoever it is, the College will work closely with them to champion pathology and the needs of our members to ensure we can provide the best care possible to our patients.
Our Open Day
Since my last article the College has been extremely busy. Our Open Day, a flagship event in our Diamond Jubilee celebrations, was moved to September when our previous plans for June were postponed because of rail and tube strikes. At the Open Day, as part of our work to further public education in the field of pathology (a core objective stated in our Royal Charter), we were delighted to be joined by 65 14–18-year olds from local schools. Our aim was to interest them in science and medicine as possible careers. The pupils came from Leytonstone School, Central Foundation Girls' School and Eastbury School.
We were also joined by Her Royal Highness, Birgitte Eva van Deurs Henriksen, Duchess of Gloucester, and Mr Leslie Morgan OBE, Deputy Lord Lieutenant for Tower Hamlets (the borough in which the College building is located).
Professor Sarah Coupland, Vice President for Communications, and I introduced the Duchess and Deputy Lord Lieutenant to members, honorary officers and members of the Trustee Board in the members' area. The Duchess of Gloucester unveiled a plaque to mark the 60th anniversary of the College (which is available to view in the members area) and signed the College's visitors' book. The Duchess of Gloucester, along with the Deputy Lord Lieutenant, the school students and their teachers, attended a fascinating 'Living Autopsy' session brilliantly given by Dr Suzy Lishman CBE, past President of the College (2014–2017).
In the afternoon, following lunch kindly sponsored by the Pathological Society, the students took part in nine interactive pathology-related activities. These were delivered by members from different pathology specialties and there was a range of activities offered. With quizzes from chemical pathologists, interactive sessions based on blood transfusion and video demonstrations around post mortems in rhinos and atherosclerosis in meerkats (who knew they can have hypercholesterolaemia?), not to mention the origami and 3D organ printing sessions, a great time was had by all who attended and we had fantastic feedback. A huge thank you to everyone involved.
The annual dinner was our first since 2019. Guests included policymakers, stakeholders and College members who have worked with and for the College over the last three years. During the dinner, we announced the winners of the 2022 RCPath Achievement Awards, which celebrate excellence in pathology practice, education and training.
In the evening of the Open Day, sponsors and key partners showcased their work to guests at our annual dinner. A big thank you must go to our sponsors Sonic Healthcare UK, Aiforia, Sectra, Smart in Media, Agilent and the Pathological Society, and to our partners 3D LifePrints and LabTests Online, without whom we could not have hosted this fantastic Jubilee Open Day event.
The annual dinner was our first since 2019. Guests included policymakers, stakeholders and College members who have worked with and for the College over the last three years. During the dinner, we announced the winners of the 2022 RCPath Achievement Awards, which celebrate excellence in pathology practice, education and training. I was delighted to present awards to four deserving teams from the Centre for Diagnosis and Research in Cancer, University of Colombo, Derbyshire Shared Care Pathology, iHistopathology and the UK Expert Haematology Panel on VITT (vaccine-induced immune thrombocytopenia and thrombosis). Read more about these fantastic teams and their great work.
Our Diamond Jubilee
Other events to celebrate our Diamond Jubilee this year are ongoing with a variety of activities all around the country. In late September, pathologists from a variety of specialties, together with other enthusiasts, cycled from Lands End to John O'Groats over a period of 12 days. The event was a combined venture between Cancer Research UK (CRUK) and the Royal College of Pathologists, sponsored by Sonic Healthcare UK and organised by Cycle Retreats. Facing terrible weather, wind, rain and climbs cumulatively greater than the height of Mount Everest, the 21 participants and the team raised over £37,000 for CRUK, a hugely worthwhile charity with whom we work extremely closely to highlight workforce issues in pathology.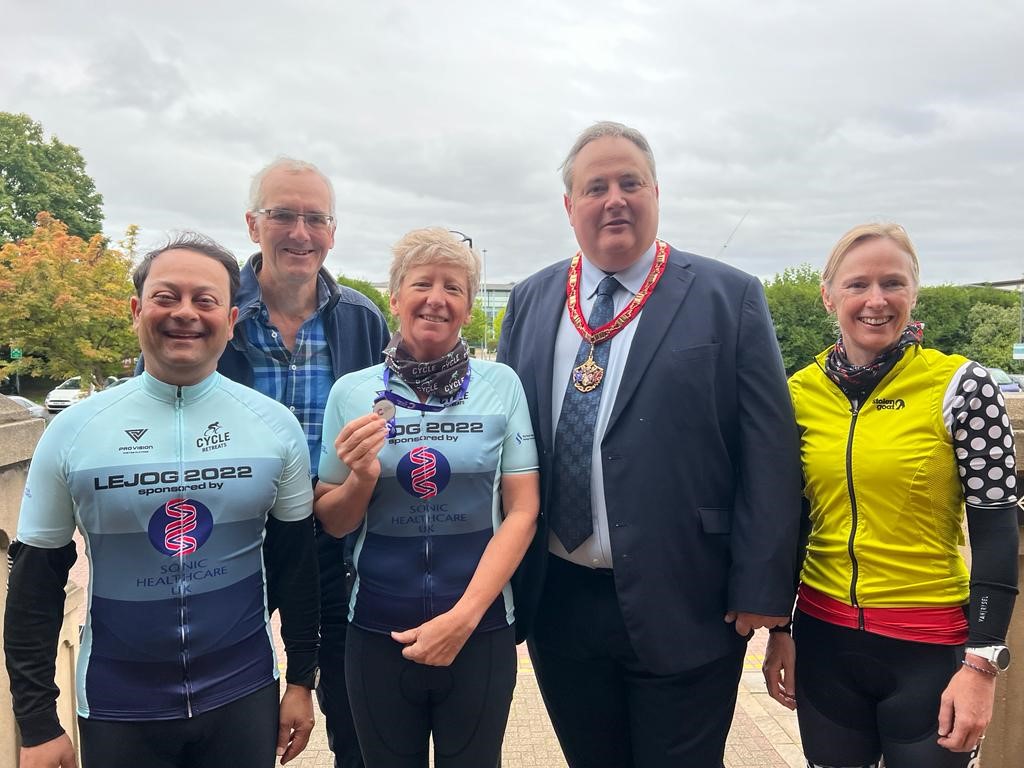 Together with Lance Sandle, our Registrar, I was lucky enough to meet the team at one of their stop overs in Warrington. Peter Johnston, Vice President for Professionalism, and Dr Rachael Liebmann OBE from Sonic Healthcare met the team when they finished in John O'Groats. This was a fantastic achievement, a great advert for the College and a superb addition to our Jubilee celebrations. Congratulations and thank you to all involved but particularly to our sponsors and to Professor Sarah Coupland, Vice President for Communications, who not only organised this event (as well as many other elements of the Diamond Jubilee celebrations), but also took part. Well done Sarah. Find out more about the ride and see pictures and donate here.
Pathology Summer School
In August, the 2022 Pathology Summer School took place and was sponsored by the College and our partners, including the British Division of the International Academy of Pathology, the Pathological Society, British Society for Haematology, Association of Clinical Pathologists, the British Infection Association and the British Neuropathological Society. This was the first in-person event for three years and it was a huge success, with around 70 medical students from across the UK joining us for the event. The Summer School offers UK medical students the chance to discover more about pathology and its role in healthcare with the aim of tempting them into pathology careers.
I was delighted to welcome students and introduce them to the different pathology specialties. There were also lectures from our Vice President for Professionalism, Professor Peter Johnston, as well as other colleagues on a wide range of topics, including pathology training and the day-to-day activities of a pathologist. Interactive breakout sessions gave students the chance to discover more about our various pathology specialties while working in small groups with fellow students. Planning has already started for next year's Summer School, which promises to be extremely popular.
The Pathology Portal
The College, in collaboration with Health Education England (HEE) and other professional bodies, proudly launched the Pathology Portal in August. Professor Jo Martin, past President of the College (2017–2020), together with a group of specialty editors and many trainees, have worked, and continue to work, tirelessly on this important project.
The Pathology Portal is a new and free-to-use educational resource for trainees, practising pathologists, scientists and those in pathology-linked roles, and open to all College members. The Portal includes over 2,000 online interactive resources developed to deliver high-quality and intriguing training materials. They can be customised to individual needs, used to support flexible and return-to-work training, and test learning. There is a wide mix of pathology staff accessing the Portal, covering a variety of subspecialties.
The Portal is continuously growing – the uptake so far has largely been within histopathology, neuropathology, cytology and autopsy, but other disciplines are being prepared for live release, including haematology, and we are very keen for the Portal to house material from all our specialties.
In addition to pathologists and allied professionals other potential users can also ask for access to the resource, for example an ophthalmologist who is looking to learn about adnexal tumours around the eye, as well as endoscopy nurses who are exploring content around biopsies. You may find some of the content helpful in supporting the training of clinicians you work with. The number of users is increasing daily and we have had superb feedback. One trainee said, "The Pathology Portal has been helpful in making ST1 less stressful!" We hope to make learning or filling knowledge gaps less stressful for everyone. Please see here for information about the Portal and how to access it.
Representing our members
Over the last few months, the College has been lobbying for the needs of pathology and for resources to support you to provide the highest level of care possible for patients. We live in turbulent times, with repeated and rapid changes in government having taken place over the last few years and indeed months. However, our message has remained the same – pathology underpins all healthcare and pathologists, laboratories and departments need adequate resources and workforce to provide the pathology services required. Without these we cannot deliver what is asked of us.
We attended both the Labour and Tory Party conferences in Liverpool and Birmingham. With other royal colleges we attended the Academy of Medical Royal Colleges' Fixing the NHS events and discussed the importance and needs of pathology and pathologists with parliamentarians, policy-makers and other stakeholders. These events were well attended and well received. They helped elevate our profile as a royal college and professional body and are another step in getting our message across and our voice heard.
Professor Sarah Coupland, Vice President for Communications, attended the event at the Labour conference where she was joined by Feryal Clark MP and the Special Adviser to Wes Streeting MP, Shadow Health Secretary. Feryal Clark MP delivered the closing remarks on the pressures facing the NHS and Social Care and the short and long-term solutions that can make a difference for patients.
Because of our lobbying work, which involves both members and staff across the College, the groups and individuals who lead on healthcare policy and resourcing are gradually coming to better understand the needs of pathology.
I attended the roundtable events at the Conservative party conference to advocate for pathology services and raise pressing workforce issues. Lord Bethell, Former Parliamentary Secretary of State for Health and Social Care, delivered the opening remarks to stimulate discussion and there were some useful insights spanning workforce, integration, tech and patient access and experience. I also met Matt Warman MP who has a particular interest in innovation and technology. We will continue to work with these politicians to highlight the importance of diagnostics in healthcare.
In addition to the party conferences, the College represented you at numerous meetings with senior NHS staff including Amanda Pritchard, Chief Executive of NHS England, and Steve Powis, National Medical Director for England. Other honorary officers, including the chairs of the devolved nations, are in regular contact with NHS leaders and policymakers in all areas of the UK. I will be visiting Northern Ireland, Scotland and Wales in the near future to again raise the issues important to members, particularly around resourcing pathology.
In November I will be speaking in Westminster about resourcing cancer diagnosis and treatment. I will use that opportunity to stress once again the importance of an adequately funded and properly staffed pathology service. Because of our lobbying work, which involves both members and staff across the College, the groups and individuals who lead on healthcare policy and resourcing are gradually coming to better understand the needs of pathology. I truly believe our message is getting through, however we live in hard times and we must continue to highlight the issues important to us.
Your College, Your Profession tour
At the end of September we held the first of our Your College, Your Profession national engagement tour events in Plymouth. This was well attended by a range of members and trainees, from different specialties and stages in their careers. The group first discussed issues around workforce and resourcing. They provided helpful examples of not only problems faced by members, but also of solutions that have worked for them and suggestions of other possible solutions either for the College to implement or raise with policymakers. This was particularly useful since the NHS England Regional Lead for Pathology Services attended the first part of the event. While we were unaware he was planning to come, he made very useful contributions and was a great addition to the event and discussion.
The second half of the event focused more on what the College does well, what it could do better and how it could provide services more tailored to the needs of our members. Again, there was a useful, frank and helpful discussion and we have certainly learned a great deal from just this first engagement event.
We have more engagement events booked around the whole country, with meetings in Glasgow, Aberdeen, Belfast, Bodelwyddan, Newcastle, Norwich and London – and that's just the ones before Christmas. In the New Year we will host more in-person events and these will be supported by online meetings, to ensure everyone has the opportunity to be involved in the discussion. I would urge everyone to try and attend one of the in-person events or, failing that, an online forum. Details of the tour are available here. We also have a dedicated email address for your suggestions on how the College could better engage with members and provide the services and support you need. Please do email your comments, suggestions and ideas to mycollege@rcpath.org
Haematological malignancy diagnostic classifications
Finally, for those of you whose work includes haematological malignancies, you will be aware that there have been some recent issues regarding updated diagnostic classifications in haematological oncology. The publication of two new haematological malignancy diagnostic classifications – the World Health Organisation (WHO) 5th edition and the International Consensus Classi-fication (ICC) – is expected soon. The outlines have recently been published in Leukemia and Blood, respectively. While for the most part they agree and overlap with each other, the two classifications do differ in some areas.
The British Society for Haematology (BSH) and British Lymphoma Pathology Group (BLPG) have been asked to help with this issue and want to provide some interim guidance for members, while planning formal definitive guidance. Please see here for further the guidance.
To finish, I would like to thank you all for your ongoing hard work, often in difficult circumstances, and to wish you all a great autumn, and a happy festive season.