Dr Heidi Doughty, Consultant in Transfusion Medicine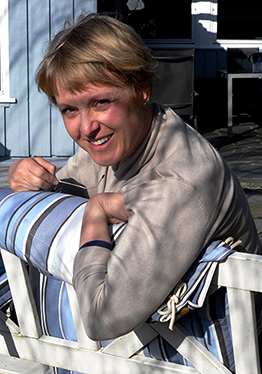 Job title and how long have you been in your current role?
I am a Consultant in Transfusion Medicine. I work in Birmingham and was appointed in 1998. I work for the blood service in England and North Wales which is part of NHS Blood and Transplant. The Birmingham blood centre is on the same site as the university, the university hospital and the Royal Centre of Defence Medicine. Birmingham has a long tradition of translational medicine and is a very exciting place to be at the moment.
My day begins at 08.30.
Each day is different, but most mornings I start by looking at my emails. I then sit with our senior medical secretary to review work completed and confirm priorities for the day. I always check the blood stock figures to see what the levels of blood and blood components, such as platelets, are across the country. Every day the NHS needs over 7000 units of blood to meet the needs of all of our patients. Every pint is precious. So many different groups of patients need transfusion support, from the newborn baby on the special care unit, to people involved in accidents and patients receiving treatment for cancer.
I then deal with any clinical enquiries.
An example would be a request for assistance in planning the transfusion support to a major operation in a patient with other transfusion problems such as red cell antibodies. In these cases we would normally work as a multi-disciplinary team with the surgeon, anaesthetist and others to develop a patient blood management plan. The plan might include the haematological preparation of the patient before the operation; as well as controlling bleeding during surgery and re-cycling the patient's own blood.
After that I start my visits.
I am associated with the Hospital Transfusion Team at the nearby University Hospital. Most hospital transfusion teams are a small group of clinical and laboratory staff who work closely with all the different clinical departments in their hospital. Their role is to promote and support best transfusion medicine and science. One of their jobs is to investigate and report transfusion reactions. I help review the evidence, see the patient if required, and provide advice for the further investigation and transfusion care of the patient.
I teach several times a month.
Sometimes it is a formal lecture, but often it is an interactive session with a small group. Transfusion training is required for a wide variety of trainees and staff, medical and non-medical. I also work with the regional blood service Hospital Liaison Team to provide transfusion workshops and study days for our local region, the West Midlands. One unusual aspect of my work is working with military doctors and nurses. I really enjoy the challenge of promoting good transfusion practice in a very challenging environment.
Most afternoons are spent writing and working on projects.
These include emergency and demand planning. One example that included both of these elements was the transfusion resilience plan for the London Olympics. I also work on projects for the Defence Medical Services. Our recent projects include delivering 'Blood to the Battlefield'; developing a 'Massive Transfusion Capability'; and more recently working on 'Air Drop,' which included testing blood after it has been dropped by parachute.
Why did you choose this specialty?
I like both laboratory and clinical haematology. I am also quite a practical person who likes working on projects outside of the traditional hospital, especially overseas. Transfusion medicine allows me to bring together all of these elements of medicine, science and management.
What do you enjoy most about your job and your chosen specialty?
I enjoy seeing clinical science in action making a difference to the lives of others. I also love promoting partnerships between different groups of people so they can share and learn from one another.
What advice would you give to students looking to enter your field?
Choose the best career for you as an individual. Pathology and medicine offer so many different career opportunities. Find your passion and follow it.
Do you take part in other activities that allow you to share and explore your skills and knowledge?
I have been a military medical reservist for 30 years and I have served overseas. I have worked in field hospitals and in support of civilian blood services. The skills that I have acquired in the Army Reserves have really helped me both personally and professionally. There is a real role for Regular and Reserve military pathologists, especially in the disciplines of haematology with transfusion and microbiology. Anyone interested in finding out more should contact Colonel (Retd) Simon Miller on 0127 641 2730 or email ArmyMed-Rec-RO1-AMS@mod.uk
Do you have any professional or personal achievements that you would like to share?
I am really proud that transfusion medicine projects have been finalists for, and winners of, Military Civilian Health Partnership awards. Best of all was being honoured with an OBE this year for my work with the Reserves and military Transfusion Medicine.