We live in a time of high industrial tension and I am sure almost everyone reading this editorial is acutely aware of the recent strikes, such as the junior doctors' strikes, involving healthcare staff, particularly concerning our members.
We are a royal college and not a trade union – as such, terms and conditions of employment fall outside our remit. We have, however, made our position on the strikes clear, both in our statement and the latest statement from the Academy of Medical Royal Colleges, which we fully endorse and helped draft. The statement urges all parties to engage with an independent organisation to facilitate a swift resolution.
Advocating for you
Our 2023 workforce survey
The lack of sufficient numbers of appropriate staff to deliver and develop the high-quality pathology services we all aspire to provide for our patients is arguably the most significant issue affecting us all professionally. This, and the related pressures it produces, underlies many of the problems we face daily in our working lives. It is also a significant contributor to the industrial disputes we are currently experiencing in healthcare, both for junior doctors and other healthcare colleagues.
Given the current staffing issues, workforce is one of our major areas of advocacy work. Along with 80 other organisations, we have given our support to a statement coordinated by National Voices (a coalition of health and social care charities) regarding the prolonged and intense workforce pressures facing health and social care. The statement urges the government to take immediate and urgent action, including the publication of the long-awaited NHS Workforce Plan.
For us to be able to highlight issues, suggest solutions and advocate for the pathology workforce required in all our specialties, we need accurate, up-to-date data. Only then is our argument taken seriously by policymakers and governments. Over the past year, we've been reviewing our approach to the way we collect and report on pathology workforce data. Taking into consideration the results of our review and the feedback we received, in March 2023, we launched our most ambitious and comprehensive survey of the pathology workforce to date. We are very conscious of your heavy workload and to make data submission as easy as possible we:
generated grouped surveys for blood sciences, diagnostics, infection and veterinary pathology
provided a list of questions allowing you to collect the information you need before you open the survey.
In developing this new approach and survey, we have built on our old individual surveys for cellular pathology and clinical biochemistry/chemical pathology. This means that in some cases you will have provided us with data relatively recently. However, to ensure that we have a contemporaneous picture of pathology workforce capacity and demand, we need up-to-date information. Therefore, we cannot use historic data in our analysis and we will need you to resubmit your data to us. Apologies for this.
We know that many of you, including those working in cellular pathology and clinical biochemistry/chemical pathology, will have submitted similar data to NHS bodies recently. If this is the case for your department, and you have recently sent NHS England and Improvement (NHSEI) your data, you can submit this to us. We will work with you to collate your data and get back to you to ask for any additional information we may need. You can find further information on our website.
We are extremely grateful for your patience and work in submitting data to us, particularly while we transition over to our new approach. If there's anything further we can do to support you in providing us with data, please let us know by emailing Fiona Addiscott, Workforce and Engagement Manager.
We are excited about the potential of this new approach to supporting our advocacy work to secure the resources necessary to safeguard pathology and patients. The data we collect from this survey will enable us to highlight the gaps in the pathology workforce and make the case to politicians and policymakers for increased training places and resources for pathologists.
All-Party Parliamentary Group for Diagnostics
It is essential that the College has channels through which our advocacy efforts can be focused and our voice heard by decision-makers. Given the competing demands on policymakers' time and attention, this can be a challenge and any vehicle that can facilitate this process is very welcome. We are delighted that, in conjunction with our diagnostic colleagues in the Royal College of Radiologists, we have formed the All-Party Parliamentary Group (APPG) for Diagnostics. The APPG will highlight the value of diagnostics, promote the diagnostic workforce and improve diagnostic services by raising awareness of the barriers to and solutions for optimising the early and swift diagnosis of diseases, illnesses and injuries.
Given the size of the diagnostic backlog, there has never been a more important time for an APPG to discuss and provide solutions to optimising diagnostic services. The APPG had its inaugural meeting and was formalised as an APPG in regard to the relevant parliamentary governance structures.
Maggie Throup MP (Conservative, Erewash, Derbyshire) is chair of the group and led the election of the APPG officers who were confirmed as:
Lord Bethell
Elliot Colburn MP (Conservative, Carshalton and Wallington)
Tim Farron MP (Lib Dem, Westmorland)
Sir Oliver Heald MP (Conservative, North East Hertfordshire)
Grahame Morris MP (Labour, Easington)
Mary Robinson MP (Conservative, Cheadle)
Jim Shannon MP (DUP, Strangford).
Together with the Royal College of Radiologists, we run the secretariat for the APPG. We have a comprehensive list of parliamentarians from all parties who are associated with the APPG and who we keep updated on activities.
At the inaugural meeting, the discussion focused on the importance of the diagnostic workforce, the vital work it does and the importance of setting up an APPG for Diagnostics at this crucial time. The next steps for the APPG are being finalised but will include a range of events to engage politicians and policymakers, including roundtables, parliamentary debates and questions in parliament. We will keep you updated on this exciting work and the activities of the APPG.
APPG on Bowel Cancer
In addition to setting up our own APPG, we work closely with others whose work involves advocating for pathology. The APPG on Bowel Cancer, which is coordinated by Bowel Cancer UK, recently launched and I attended their first meeting during Bowel Cancer Awareness month along with Professor Sarah Coupland, Vice President for Communications. Bowel cancer is the fourth most common cancer in the UK and the second leading cause of cancer death.
This first-ever parliamentary group dedicated to bowel cancer is an important milestone in seeking appropriate prioritisation of bowel cancer and appropriate pathology resources, from across our specialties, to support its diagnosis and treatment. We will continue our close involvement with this group to ensure that the important role of pathologists in bowel cancer services is recognised and highlighted.
Meeting your needs
As a member organisation, the College is here for you. We want to hear what is important to our members and how our strategy and work can support you further. If the College is to function successfully and to truly represent and support its members, members must feel engaged with the College and that their voice is heard.
Since autumn 2022 (once COVID allowed), Richard Smith (the College's Head of Professional Practice) and I have been visiting members across the UK as part of our engagement tour – Your College, Your Profession. Between 30 September 2022 and 18 January 2023, we visited 10 locations, across all 4 nations. 232 members booked to attend (an average of 23 members per event) and 160 members attended (an average of 16 per event). Feedback suggested that the 31% dropout rate was due to work pressures preventing them from attending, so we have reached out to these members offline.
We met people from different membership categories, as well as a few non-members who were pathologists, which helped highlight why some in the profession are not members of the College. Thank you to all the locations for the warm welcome and to our regional chairs in Scotland, Wales and Northern Ireland and England's regional representatives who supported us.
The main aim of the tour was to listen to members and to act on your feedback where possible. While we were happy to discuss any topic or issue, we asked three questions:
What do you value about the College? What does the College do well?
What should we do differently/start doing?
What workforce pressures and challenges are you experiencing?
We collected feedback through discussions and individual feedback using sticky notes, with this process ensuring everybody had the opportunity to be heard. Overall, it was very heartening to hear how positive you were when you spoke about the College. You told us you are proud and value your College membership. While there were regional variations concerning specific local challenges, most conversations focused on very similar broad areas. The main priorities you said we should focus on were:
advocacy, lobbying and campaigning
CPD offering
RCPath exams
communication from the College.
Your feedback has given us insights into what we can do better. We can use this information to support the development of the next College strategy and feed into College projects. For example, the final three points on the list directly feed into our digital transformation project. The project will introduce new systems and tools, enhancing our ability to support you.
The tour has been a great opportunity for me to personally meet members from every part of the UK (and to be accidentally locked in a castle, accosted by peacocks, and have an aborted landing in Aberdeen). It is the start of an ongoing programme of increased engagement with members; further visits are planned for later this year as well as online member engagement events in the future. We will keep you updated.
Gaining insight into veterinary pathology
I am a huge animal lover as many of you know (yes – the pet competition was my idea). So, you can imagine how excited and happy I was when I was invited, with Professor Sarah Coupland, to visit the London Zoo and the Zoological Society of London by Simon Spiro and Becki Lawson who are both veterinary pathologists very involved in College activities. The visit was to highlight the work of veterinary pathology in many areas, not just zoo work.
I learned a huge amount about the avian flu pandemic, which is causing devastation to bird populations. It really brought home the size of the outbreak and its threat to both our wild bird population and poultry industry. I also was able to discuss and learn more about One Health – the realisation that animal and human health is intimately interlinked with each other and with the environment. The College is championing One Health and looking for ways to continue to highlight this.
We saw an operation on a monkey, an autopsy on a dolphin and, best of all, met an Okapi, which was an absolute delight. Through the trip and the associated discussions, Professor Coupland and I gained huge insights into the amazing, vital and exciting work that our veterinary pathologist colleagues do, which affects us all. I look forward to the College continuing to support veterinary pathology and pathologists and the often unrecognised work you do going forward. Thank you to Simon and Becki for an amazing visit.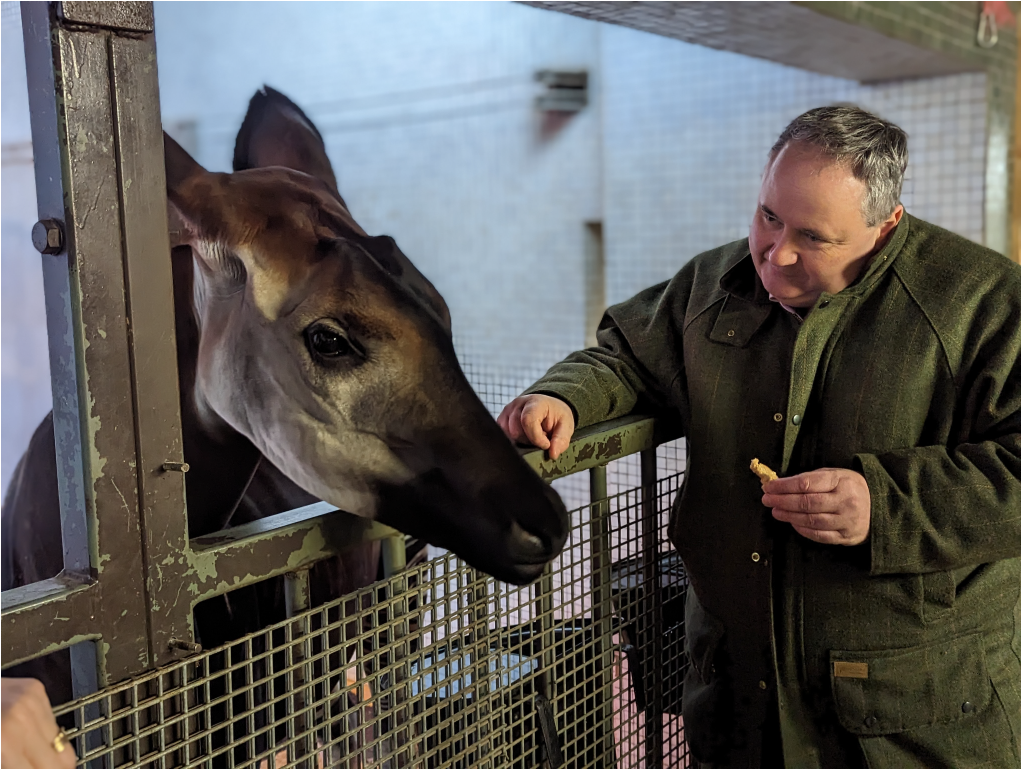 75 years of the NHS
2023 marks the 75th anniversary of the formation of the NHS. National Pathology Week 2023 will run from 19 to 25 June and our theme this year is 'Pathologists and Patients'. We'll be celebrating 75 years of the NHS as part of this and highlighting the essential work pathologists and clinical scientists do to help patients. We will showcase career options across our 17 specialties and engage young people in activities with our members to inspire the next generation. Professor Angharad Davies, Vice President for Learning, will also be leading an activity that celebrates pathology advances over the past 75 years at an event in Carmarthenshire, Wales, from 29 May to 3 June.
The Urdd National Eisteddfod is one of the largest youth festivals in Europe, attracting up to 20,000 people aged under 25 over a week and held through the medium of Welsh. Professor Davies and a team of colleagues will run an engaging birthday party-themed activity stall in the Science Tent at this event. Their activities will bring to life a 'timeline' of important medical milestones in the NHS and pathology since its establishment in 1948. This will include the introduction of early antibiotics, IVF and organ transplants.
Participants will learn about the contribution the NHS has made to medicine internationally. Attendees will be challenged to put a series of milestones, one from each decade, in chronological order, and vote for the 'best' advance. There will also be a giant 75th birthday card in which attendees will be able to write notes of thanks to the NHS and pathology services. This promises to be a fantastic family-friendly event and I would thoroughly recommend it to anyone who can attend.
I would like to finish by thanking you all for your hard work and efforts during what is a difficult time for pathology, the NHS and healthcare services. The College will continue to work hard to support you and to advocate for you and the needs of the profession.
I wish you all the very best for the next few months.