The Royal College of Pathologists was founded on 21 June 1962. In 2022, as part of our 60th anniversary (Diamond Jubilee) celebrations, we will be holding a number of Living Autopsy events across the UK. The full list of events can be found below.
What is a Living Autopsy?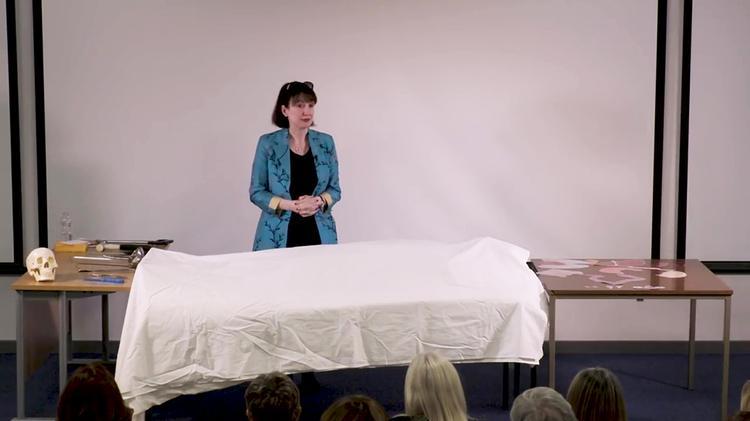 Originally known as a 'Virtual Autopsy', this event was developed by consultant histopathologist, Dr Suzy Lishman CBE. It is a live audience-based event with one main pathologist presenter and a model playing a 'dead body'. It takes attendees through the process of a post mortem examination, and involves showing the real instruments used during the procedure. It also explains the role of pathologists in hospitals, and what circumstances would lead to a post mortem being required for someone who has died.
This core content has been enhanced with additional themes, stories and visuals to bring in historical or other factors that are relevant to post mortems, disease and/or the venue or audience of the event.
National events presented by Dr Suzy Lishman CBE
Date

Location

How to book tickets

24 February 2022

Two digital events

Part of the Northern Ireland Science Festival, Ulster Museum, Belfast

School students (2pm event)

Digital School Lecture - Autopsies: Past, Present and Future

Adult audience (7pm event)

'Tools of the Trade' Digital Lecture - Autopsies: Past, Present and Future

25 March 2022

Thackray Museum of Medicine,Leeds

For adults and children aged 12+ years: book here

28 April 2022

Old Operating Theatre, London

Adult audience and medical students: Autopsies: Past, Present and Future

26 May 2022

Playfair Hall, Royal College of Surgeons of Edinburgh

7-9pm BST, adult audience and medical students: book tickets here

23 September 2022

Newcastle Castle

Adult audience (7.30pm event): book tickets here

To be rescheduled for 2023

Cardiff Museum, Reardon Smith lecture theatre

Adults and/or schools

17 November 2022

George Marshall Medical Museum, Worcester

School students/mixed adult audience 6pm
Regional events
| Date | Location | Pathologist | Audience(s) | Find out more/book tickets |
| --- | --- | --- | --- | --- |
| 25 February 2022 | The Playhouse, Derry | Dr Oonagh King | Adults | |
| 15 March 2022 | Birkenhead Sixth Form College | Dr Howida Shawki | School and college students (aged 14 to 18) | 4.30pm - www.bsfc.ac.uk/livingautopsy |
| 22 March 2022 | Wirral Grammar School for Girls | Dr Howida Shawki | School and college students (aged 11 to 18) | 1.30-3.30pm |
| 3 August 2022 | National Eistefodd of Wales, Tregaron, Wales | Dr Emyr Benbow | Families and young adults | 6-8pm |
| 25 October 2022 | Liverpool University Guild | Dr Matthew Cieka | Adults and school, college and university students | 6-8pm |
| November date brought forward to 17 October 2022 | The Kings School, Chester | Dr Natalie Meara | School and college students (aged 11 to 18) | 6-8pm |
Resources