Become an examiner
Examiners play a crucial role in the preparation and delivery of our examinations, assisting with question writing, standard setting, face to face examining, and marking of exam scripts. There are currently around 1000 examiners on the books, across 21 different specialties and sub-specialties.
Participants have found it to be an intellectually stimulating activity, which also attracts CPD points. There are opportunities for progression as an exam lead, or as a panel chair in your specialty. All reasonable expenses incurred whilst undertaking examiner duties will be reimbursed (further information can be found in our expenses policy).
The Examiner Journey
Applications for item writers, examiners, and senior examiners go through the following process: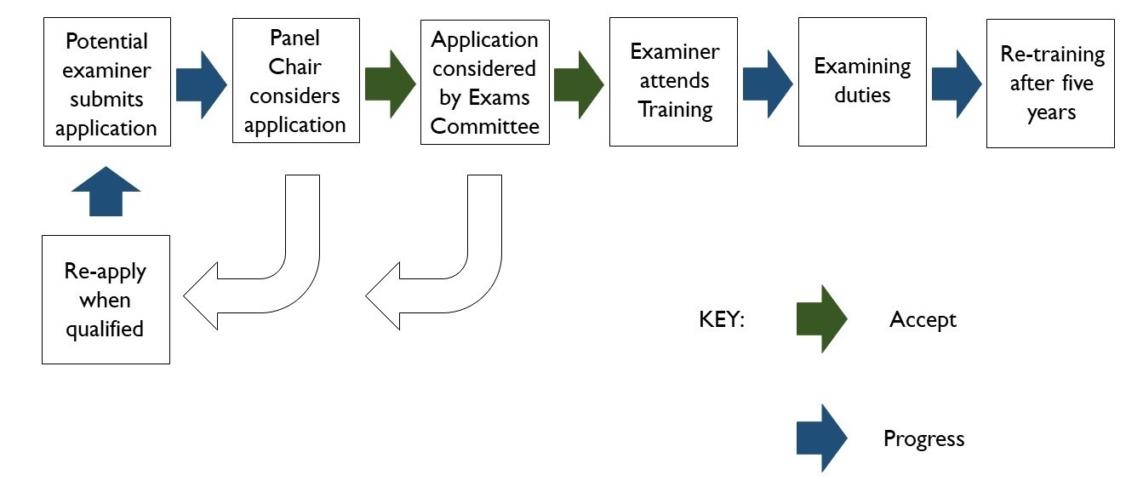 Meetings of the Examinations Committee are held in February, May, September, and November each year. Examiner training is typically held in February and July each year.
Interested in becoming an examiner? Take a look at the different examiner role descriptions below, to give you an idea of your potential duties.
Then, download and complete the application form and email to [email protected]. Applications will be reviewed at the next meeting of the Examinations Committee (February, May, September, or November) and the Examinations Department will then be in touch to confirm your membership on the examiner panel.
Please note these documents are restricted and you will need to be logged in to access them.