Flynn Lecture
This lecture has been endowed by Professor Freddie Flynn to fund an annual lecture on a topic relevant to the practice of Chemical Pathology, with the lecturer chosen normally in alternate years from among those working in the United Kingdom or overseas. The first lecture was given in 2000 by Professor Sir David Weatherall.
2019 LECTURE
Professor Alison Avenell delivered her lecture, 'Lies, damned lies and statistics in research – improving efficiency in research and reducing the impact of misconduct – examples from vitamin D research' on Friday 3 May 2019, as part of the Association for Clinical Biochemistry & Laboratory Medicine Annual Meeting (Focus 2019), held in Glasgow.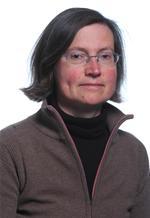 Professor Alison Avenell joined the Health Services Research Unit of the University of Aberdeen in 1998, as a Clinical Research Fellow. She was subsequently funded by the Chief Scientist Office (CSO) of the Scottish Government Health Directorates as a Clinical Research Fellow to undertake research in the MRC funded RECORD trial, which examined the effect of calcium and/or vitamin D supplementation in the secondary prevention of osteoporotic fractures. She also led the MAVIS trial which examined the effectiveness of vitamin and mineral supplementation in preventing infections in older people, and helped lead the SIGNET trial of glutamine and selenium supplementation in critical illness. She was a CSO funded Career Scientist and currently has a clinical chair in health services research and is an Honorary Consultant in Clinical Biochemistry, undertaking systematic reviews and randomised controlled trials of treatments for adult obesity, and under-nutrition in clinical practice.
PREVIOUS LECTURES
2014 - not given
2015 - Dr Ian Barnes
2016 - Professor Sir Stephen Bloom
2017 - Dr Suzy Lishman
2018 – Dr Bernie Croal