Foundation Lecture
Presented at an academic meeting held at the College in October. The subject ties in with the meeting. The first lecture was given in 1964 by Sir Roy Cameron.
2018 Lecture
Professor Meghan Delaney delivered her lecture, 'Approaches and Outcomes in Immunohematology Puzzles: Warm autoantibodies and Antigen Matching' on Thursday 22 November 2018, as part of the Advances in Transfusion Medicine Conference 2018.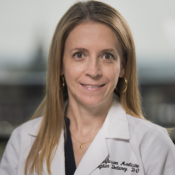 Professor. Delaney earned a Bachelor of Science degree in biology from the University of Vermont, doctor of osteopathy degree from the New England College of Osteopathic Medicine and Master of Public Health from the University of Washington. She completed her residency in clinical pathology at Beth Israel Deaconess Medical Center/Harvard Medical School and a fellowship in transfusion medicine and blood banking at the Puget Sound Blood Center in Seattle.
This was the first conference held in the College's new home at 6 Alie Street.
Previous Lectures
2013 - not given
2014 - not given
2015 - not given
2016 - Dr Connie Westhoff
2017 - not given