Roy Cameron Lecture
Sir Roy Cameron was the Founder President of the College, which soon after its foundation established the Cameron Lecture in his honour. The lecture may be given on any pathology specialty. The lecture was first given in 1965 by Professor C L Oakley.
2019 LECTURE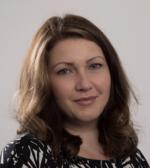 Prof Jelena Mann delivered her lecture, 'Epigenetics and Liver Fibrosis' on 20 November 2019, as part of the British Society of Toxicological Pathology's 34th Annual Scientific Meeting organised in co-operation with British Toxicology Society, which was held in Newcastle.
Professor Jelena Mann, PhD, Professor of Epigenetics, Liver Research Group, Institute of Cellular Medicine, Medical School, Newcastle University is an expert working in the field of the liver fibrosis, which is a common end pathway of liver injury irrespective of etiology. She is particularly interested in delineating epigenetic signaling pathways that trigger fibrogenesis and discovering its molecular control that can be targeted with drugs, thus generating new treatments.
PREVIOUS LECTURES
2014 - not given
2015 - Dr Jayne Wright
2016 - Professor John Foster
2017 – Dr Maurice Carey
2018 - Professor John Pasi