Events in science centres and museums
Blood Count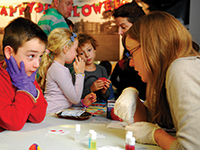 "Blood Count" was a family event held at the Florence Nightingale Museum for NPW 2010. The event was organised by Dr Kate Bailey (Haematology SpR, Hammersmith Hospital), in collaboration with the NPW team at RCPath, also with Dr Megan Rowley (Haematology Consultant, St Mary's Hospital) and Dr Sarah Bennett (GP). Children and their parents enjoyed the opportunity to create blood film collages, examine normal and abnormal blood films under the microscope and to carry out a simple blood grouping experiment using synthetic blood. "Great level for children participating", "very impressive… a wonderful day for the family!".
---
Meet the scientist at Thinktank Science Museum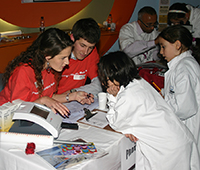 The West Midlands Promoting Laboratory Medicine Group were invited to hold a 'Meet the Scientist' event during the October half term, the perfect opportunity for trainee biochemists to interact with the public of all ages, but particularly children, to ignite an interest and enthusiasm for science, as well as raise the profile of pathology. The group invented three patients with three different illnesses: renal dysfunction, kidney stones and diabetes. Fake samples were created and used to 'diagnose' the illness by measuring protein, pH and glucose. There was also a microscope, managed by a consultant histopathologist. As the event was open to visitors at the museum, the information at each stand was aimed at teaching the younger children the basic concepts of the tests, while for the adults there were posters and a video describing what happens to their samples within the laboratory.
About 250 people attended the event; at times it was so busy that queues were forming for some of the experiments. Parents expressed what a good experience it was for their children, and took delight in photographing them in lab coats! The event was picked up by the Birmingham Mail who came over and took photos and spoke to the team.
---
Pathology at The Lightbox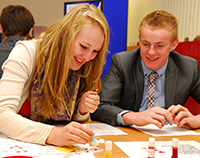 Pathology staff from the Royal Surrey County, Frimley Park, and Ashford and St Peter's Hospitals, teamed up with the Lightbox Gallery to hold a day of pathology activities for local sixth form students. After an introductory talk, the students rotated through a series of stations that included a glucose challenge, a hand cleanliness experiment, a crime scene scenario, and a design a point-of-care test competition. The session culminated in the students presenting their ideas and prize-giving for all entries. Feedback from the students was very positive, and it is hoped that a similar event can be repeated in the future.
---
'Disease Detectives' at Thackray Medical Museum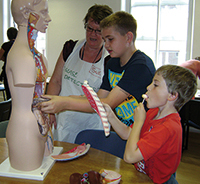 The award-winning Thackray Medical Museum in Leeds, aimed at families and schools, tells the story of medicine. The Leeds Histopathology Department held a week-long event at the museum, staffed by pathologists. This included the video, light microscope and 'Powerwall' used in the histopathology stand at the Leeds Oncology Institute.
Visitors navigated Powerwall images with a Playstation controller, which children grasped intuitively. There was also a demonstration of 3-D computer images of human organs, an anatomical human model from which visitors could remove organs and try to replace them correctly, an anatomy quiz, and colouring for little ones. Visitor response was overwhelmingly positive!
---
Satrosphere Science Centre, Aberdeen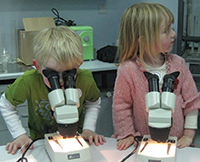 Staff from Clinical Biochemistry, Haematology, Histopathology and Immunology took over Satrosphere Science Centre, Aberdeen, for three days of hands-on experiments and demonstrations. During the week, 98 school pupils aged 5 to 11 years had the opportunity to try a number of activities including: measuring the glucose concentration of soft drinks, viewing gross and microscopic pathology in action and a demonstration of allergy testing. On Saturday, we had activities for all ages, including cholesterol testing for adults. The event finished with the presentation of a family pass (kindly donated by Satrosphere) to Lorna Duthie, who won the competition to think of words related to pathology beginning with each letter of the NPW logo
---
From molecules to people!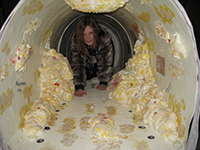 Dr Clair Evans thanks all her colleagues who presented a fantastic multidisciplinary display at the Kelvingrove Art Gallery and Museum in Glasgow. The event included exhibits, interactive displays, games and even point-of-care cholesterol testing. Staff from paediatric pathology, histopathology, clinical biochemistry, clinical genetics, molecular genetics and cytogenetics participated and included consultants, pathology trainees, clinical scientists, biomedical scientists and an anatomical pathology technician. Over 300 people visited and the feedback was excellent. This is the second event that we've held at the Kelvingrove Museum and we thank them for hosting us. Thanks also go to the pathologists and trainees who put in a great effort at last year's NPW event.
---
Pathology Day at INTECH Science Centre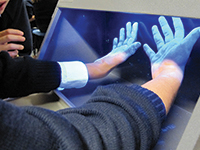 Dr Meg Ashton-Key, Consultant at Southampton University Hospitals organised a series of pathology activities at INTECH science centre, Winchester. With a team of 14 colleagues, 148 primary school children enjoyed workshops learning about bugs, hand washing, staining their own cheek cells and guessing the object. On Saturday over 400 members of the public attended. The event was publicised in the local press, directly to schools and with posters in the library. The event was a great success, all the children voted that they enjoyed themselves, they would like to do something similar again and that they learned something about pathology.ve some 'real' scientists in just at a time when they're choosing their A-level options."